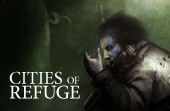 I have uploaded Episode 43, Cities of Refuge. This story is about life after the re-taking of Caldari Prime from the Gallente, from the perspective of a young child.
In other news, the Pod and Planet fiction writing contest has closed and the winner has been announced – the excellent A Spider in her Web by Voodoo Williams. I am currently in the process of recording this story in audio format and will announce when it is available for download.
The Eve Reader also has a Youtube channel, which can be found by clicking on this link. This is so you can listen to the Eve Chronicles without having to download mp3 files or if you wanted to listen to just a particular section of a chronicle. By all means, find your favorite episode and leave feedback, and feel free to show your Eve and non-Eve friends!
Lastly, the Eve Reader website has been re-designed to be easier on the eyes and easier to use. If you notice anything amiss, please let me know.
If you would like to reach me, my email is zendane [at] evereader [dot] org.