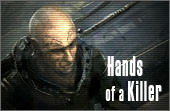 This is another pair of shorter Chronicles, contrasting the differences between a regular starship crewman and a capsuleer pilot. These stories tie nicely together, beginning with ambition and ultimately with death – but a different ending, a different view of death for each of the characters involved.
I'd like to thank Meo Fafard for helping me understand how to pronounce one of the names in this story. Any mistakes in pronunciation are simply mine!
If you would like to reach me, my email is zendane [at] evereader [dot] org.