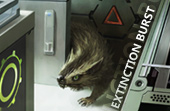 Today's episode is the story of a scientist, his research and his unusual methods in conducting his study of the "Extinction Burst" concept. This is not an episode for the faint of heart!
Be sure to stay for the very end of the episode for an explanation on why there are occasional delays between recordings!
If you would like to reach me, my email is zendane [at] evereader [dot] org.